Imagine. Create. Explore.
What if the library was more than just a place for books, music and movies? What if the library was a place to learn survival skills, brew beer and fix your bike? Find new opportunities to make, create and explore.
---

Spring can be full of energy, promise, and activity. Join ImagineIF to think more deeply about what makes a wild time, explore bear safety, and get your hands dirty with natural dyes. Get wild with ImagineIF Libraries this spring.
---
Wildflower Seed Paper
Blend up a batch of wildflower seed paper at the library. Take it home to let it dry, then send a note with a little wild surprise!
Kalispell: May 3-10
Columbia Falls: May 14, 16-18
Bigfork: May 21-25
---
Book Signing with Local Author Cbeppa
Meet a local author and enjoy light refreshments. Cbeppa, who recently published her debut novel Hop & Vetiver: Accidental Anarchists, will be signing copies of her book.
More about Hop & Vetiver: "Vetiver is traveling across a dystopian U.S. with her parents when a mysterious phantom names Hop attaches to her. Hop needs someone ordinary to mask his presence, and Vetiver agrees to travel with him. Before long, Vetiver begins to wonder if Hop is helping her at all…or leading her deeper into danger."
ImagineIF Libraries Kalispell: Friday, May 17, 5-6 p.m.
---
Trivia @ the Brewery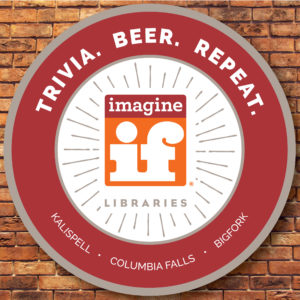 Enjoy trivia night every Monday at the brewery, with trivia questions provided by ImagineIF Libraries. Put your brain to the test!
Kalispell Brewing Company: Mondays, 6-8 p.m.
Backslope Brewing: Mondays, 6-8 p.m.
---