Adults
Upcoming Events
For many, the changing of the seasons is bittersweet, with cooler weather and back-to-school routines. Take some time to appreciate fall at ImagineIF Libraries by taking a deep breath and cozying up for the shorter days. Savor the season.
---

Battle of the Bulge: A Montana Perspective
Join authors John Driscoll and Randall LeCocq to hear about Montana's involvement in the largest land battle in United States history, WWII's Battle of the Bulge. At the end you can share your connection to the battle or buy a copy of the book and have it signed.
ImagineIF Kalispell Oak Room: Tuesday, November 20, 6-8 p.m.
---
Trivia @ the Brewery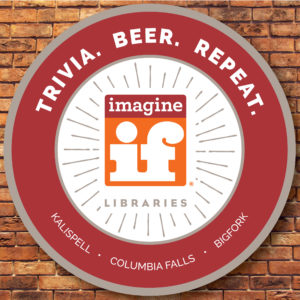 Enjoy trivia night every Monday at the brewery, with trivia questions provided by ImagineIF Libraries. Put your brain to the test!
Kalispell Brewing Company: Mondays, 6-8 p.m.
Backslope Brewing: Mondays, 6-8 p.m.
---
Digital Materials
MontanaLibrary2Go – Download audiobooks and ebooks for your computer, e-reader, portable media player or tablet.
Mango Languages – Choose from more than 60 languages. This interactive and fun language learning tool includes downloadable apps, special courses for kids and foreign-language films.
---
Find a Great New Read
Want recommendations from book experts? NoveList offers fiction and nonfiction reviews, read-alikes, audiobook listen-alikes, discussion guides and more, for readers of all ages.
Get Started >
---
Databases & Resources
Whether you are fixing your lawnmower, finding funding for a nonprofit organization or finishing a research paper, ImagineIF's databases have the information you need.
More Info >
---
New Arrivals
Discover the newest titles at ImagineIF, often before they hit the shelves.
---
Search the Catalog