Adults
Upcoming Events
For many, the changing of the seasons is bittersweet, with cooler weather and back-to-school routines. Take some time to appreciate fall at ImagineIF Libraries by taking a deep breath and cozying up for the shorter days. Savor the season.

Chocolate Appreciation
Up your meditation game by starting small: have a piece of chocolate. Increase your awareness of your surroundings, and take a moment. And you get a tasty treat to boot! While supplies last.
ImagineIF Kalispell: October 1-13
ImagineIF Columbia Falls: October 16-20
ImagineIF Bigfork: October 24-31
---
Trivia @ the Brewery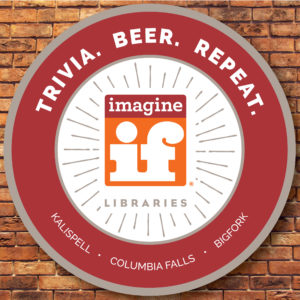 Enjoy trivia night every Monday at the brewery, with trivia questions provided by ImagineIF Libraries. Put your brain to the test!
Kalispell Brewing Company: Mondays, 6-8 p.m.
Backslope Brewing: Mondays, 6-8 p.m.
---
Digital Materials
MontanaLibrary2Go – Download audiobooks and ebooks for your computer, e-reader, portable media player or tablet.
Mango Languages – Choose from more than 60 languages. This interactive and fun language learning tool includes downloadable apps, special courses for kids and foreign-language films.
---
Find a Great New Read
Want recommendations from book experts? NoveList offers fiction and nonfiction reviews, read-alikes, audiobook listen-alikes, discussion guides and more, for readers of all ages.
Get Started >
---
Databases & Resources
Whether you are fixing your lawnmower, finding funding for a nonprofit organization or finishing a research paper, ImagineIF's databases have the information you need.
More Info >
---
New Arrivals
Discover the newest titles at ImagineIF, often before they hit the shelves.
---
Search the Catalog