Kids
Upcoming Events
---
Love Sculpture
Watch an enormous kid-built sculpture about Love evolve over time as kids tinker with recyclable materials, combining engineering with art. Especially for children in grades K-6.
Kalispell: February 5-9
Columbia Falls: February 19-23
Bigfork: February 26 & March 2
---
Ribbon Cutting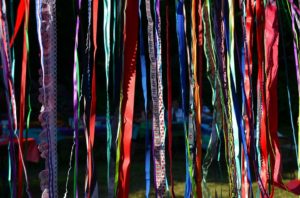 Rip and cut surveyor's tape to build from the ground up. Elevate this everyday material into an art installation. Resulting in a sensory experience, this zone is especially designed for those ages 6 and up, including adults.
Kalispell: January 7-18
Columbia Falls: January 22-26
Bigfork: January 15-29
---
The following are recurring events for infants to children age 5.
View All Events >
Early Explorers (formerly Books & Babies)
Share smiles, stories, rhymes and more at this entertaining and interactive class for infants and toddlers and their caregivers. Rhythm and repetition form a foundation for learning by strengthening language connections in the brain. Participants will also learn fun techniques for using books, songs, and rhymes at home. (birth to age 2)
Kalispell: Thursdays, 11 am-12 pm
---
Footloose Friends (formerly Toddler Time)
Sing, dance, read and explore while also building social and emotional skills. This fun and interactive class is for toddlers and preschoolers who love to move! Bring your sense of fun for the included messy and sensory play that helps prepare children for future learning success. Caregiver participation encouraged. (ages 2-4)
Columbia Falls: Mondays, 11am-12pm
Kalispell: Tuesdays, 11 am-12 pm
Bigfork: Wednesdays, 10:30am-11:30am
---
Super Scholars (formerly Preschool Storytime)
With a special emphasis on independence and a focus on longer stories, listening, and taking turns, preschoolers in this class will gain skills they need for kindergarten success. Sessions will also include fun songs, movement and basic literacy concepts, as well as math and science exploration. (ages 4-5)
Columbia Falls: Wednesdays, 10:30am-11:30am; (for daycares) Thursdays, 10:30am- 11:30am
Kalispell: Wednesdays, 11am-12pm
---
After-School Storytime
Children in grades K-3 meet for an advanced storytime featuring chapter books.
Marion: Every other Wednesday, 3:30-4:30 pm
---
Find a cool new book!
---
Downloadable Materials – MontanaLibrary2Go
---
Early learning online games and hot sites for exploring
---
Popular games & activities for school aged children
---
Request a class or group visit